SMOK Stick Prince and TFV12 Prince Starter Kit
March 24, 2018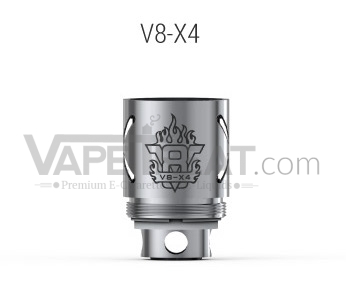 SMOK TFV8 V8-X4 Coil for TFV8 Cloud Beast Tank
March 24, 2018
Vaporesso Tarot Pro 160W TC Box MOD
₨ 6,500.00
Vaporesso has amassed acclaim in the vaping community as the creators of innovative and unique products. They have returned with a powerful new dual-battery box MOD that leaves a lasting impression upon any who use it. Firing up to 160 Watts, the Tarot Pro temperature control vape MOD comes installed with a jaw dropping new OMNI Board chipset.
Available in Silver color
Out of stock
This new chip design contains a new CCT, CCW and Smart Variable wattage modes for a diverse vaping experience you've never seen before. Customized Curve of Temperature (CCT) allows for the user to control the quality of the first draw and maintain a satisfying temperature control vaping session. Customized Curve of Wattage (CCW) allows for the vaper to customize individual pulses of wattage to their liking. A simple configurable interface allows the user to input a initial wattage and lower or higher it to a predetermined resting wattage. Smart Variable Wattage mode works to give the user a recommended wattage for their atomizer resistance and fire it at safe levels preserving battery life. Fire your coils in Variable wattage (VW), CCW, Ni200, Stainless Steel or titanium temperature control modes. This firmware upgradeable MOD keeps the user on the cutting edge of Vaporesso Omni board technology. Be sure to buy a Vaporesso Tarot Pro 160W TC Box MOD today!
What's Included:
1 x Vaporesso Tarot PRO 160W Box MOD
1 x User Guide and Warranty Card
1 x Micro USB Cable
Specs & Features
Dimensions: 93 x 55 x 23mm
Voltage Range: 0 – 8.5V
Wattage Range: 5W to 160W
Temperature Range: 100℃ – 315℃ /280F – 600F
Suitable Atomizer: 0.15 – 5 ohm
Mode: SMART VW/VT(Ni200,SS,Ti)/TCR/CCW/CCT/ BYPASS
Casting: Zinc Alloy, Aluminium Alloy and Carbon Fiber
Battery Cell: 2 x Lithium 18650 (Sold Separate)
Display: OLED 0.91 inch
Thread: 510 thread
Firmware Upgradeable
Low Voltage & Short Circuit Protection
Micro USB Port